Vagif Samadoghlu

(born 1937)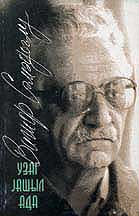 This book may be purchased at AI Store at AZER.com. Click on Books.
This book is in Azeri Cyrillic.
Click below for Azeri Latin or English translations.





| | |
| --- | --- |
| | Download Adobe Acrobat free to read and print all 61 poems. |



Typed by Narges Abadi
Translated into English by Aynur Hajiyeva
Created for Web by Farida Sadikhova

Back to - Literature Index
Back to - Azeri Latin Index
Home
© Azerbaijan International since 2001. All rights reserved.