Summer 2000 (8.2)
Ancient Prescriptions for Health
The Aptek Museum and Bathhouse

by Farid Alakbarov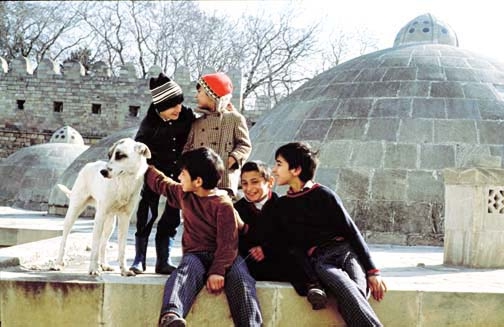 Photo: Exterior of the Aptek Museum Bathhouse located in Ichari Shahar (Inner City). Photo: Litvin

It's one of those rare, unique places in Baku's "Inner City" (Ichari Shahar), but it has fallen into such serious disrepair that unless serious steps are taken to remedy this small bathhouse museum that doubles as a pharmacy for traditional medicine, no doubt it will have to be shut down. Most of the very attractive murals in the dome entrance have already deteriorated, as the building periodically suffers from both rains and underground dampness. Most of the rooms have been closed. You can no longer see the halls or bathhouse pools.

Many of the original exhibits have been removed to drier climes. You'll still find an exhibit of ancient bottles and some old documents. In 1990, there was an ancient balance used for measuring very small seeds and tablets. It's gone now.


| | |
| --- | --- |
| | |
Murals inside the entrance dome of the bath house are based on poetic lines from (left) Mahsati Ganjavi and (right) Fuzuli. Below: (left) Hippocrates and (right) Khagani. Photos: Blair


| | |
| --- | --- |
| | |

Nevertheless, we still think the museum and bathhouse are worth a visit as you meander around in the medieval alleys of this, the oldest section of Baku. Clearly this small museum was more beautiful a decade ago, but still a visit offers a walk back through medical time. It used to be that the pharmacists wore national costumes; today you'll find them in white medical smocks.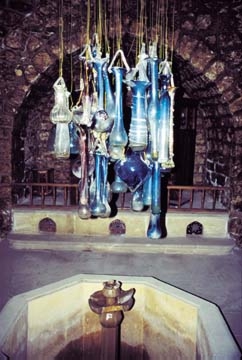 _____
Baku's Aptek Museum - the "Banovsha" (Violet) - is truly a novelty. Not only is it a renovated 17th-century bathhouse but it's a museum of pharmacy as well, and there's actually a pharmacy there where you can buy traditional herbal medicine (phytopharmacy). The place also goes by the name "Green Drug Store" (Yashil Aptek).

The Aptek Museum was created in 1984 when Baku's GAPU (Russian: Glavne Aptek Upravleniya) (Azeri: Baki Shahar Bash Aptek Idarasi), which in English means the Head Administration of Chemists' Shops, decided to repair a medieval bathhouse. Twenty years ago, there was a large square on the location where the museum now stands. When archeologists began to excavate the area, they found the ruins of a 17th-century bathhouse. The GAPU decided to convert it into a museum of pharmacy as well.

Left: Display of early bottles used for pharmaceutical purposes on display at the Aptek Bathhouse Museum. Photo: Blair

Violet Remedies
Under the museum's name at the entrance is the word "Banovsha" (violet), which refers to herbal medicine. Ancient manuscripts provide evidence that during the 9th-14th centuries, the essential oils of 42 species of herbs and flowers were used for treatments in Azerbaijan. Violet oil was used to treat colds, inflammatory disease, fever and especially headaches. One miniature from the 15th century shows a Turkish ruler, Sultan Mehmet, holding a violet in his hands and smelling it. Perhaps the illustration was simply purporting the best known remedy for a bad headache.

According to the medical manuscript "Jam' al-Bagdadi" ("The Baghdad Collection", 1311), written by Azerbaijani scientist Yusif bin Ismayil Khoyi, violets were used to stop headaches: "The scent of violets is healthy for treating headaches that are caused by excessive bile in the organis. Massage the head with a few drops of violet oil." A person with a fever was encouraged to drink a sweet beverage (sharbat) made of sugar and boiled violet leaves. Violet oil was also part of the special salves that were used to heal ulcers and tumors.

Medieval Bathhouses
The bathhouse in which the museum is housed once belonged to Gasim bey ("bey" a respectful term for landowner). There were several such public bathhouses like this in Baku, the largest one being built in the 16th century behind the Maiden's Tower. The Shirvanshah Palace within the perimeters of the "Inner City" (Ichari Shahar) also had a large bathhouse dating from the 15th century, but it lies in ruins now.

Medieval Azeri sources attribute great healing properties to bathing. An 11th-century writer named Keykavus ibn Isgandar wrote: "Since architects first began to raise buildings, they have not created anything better than a bathhouse."

In order to maintain good health, it was recommended that a person visit a bathhouse at least two or three times each week. Medieval authors suggested several plants to use in one's bath, including grape leaves, chamomile, pomegranate, basil, anise, violet, almond, garlic and barley.

All public bathhouses had masseurs who applied healing and aromatic oils on the visitors' bodies. It was also possible to get meals, drinks and medicine, and you could even rest or sleep in the bathhouse. To treat a cold, the bathhouse would offer a formula like the following: "Take 20g of basil leaves and flowers, mix with 20g of thyme leaves, and infuse in 1 liter of hot water for 15 minutes. Add two spoons of honey to the infusion and stir. The diseased person has to take one spoon of this medicine every half hour."

Gasim bey's bathhouse doesn't look like modern bathhouses or saunas because it was based on the Oriental style of architecture, which uses domes and arches. It has several large pools and a number of separate rooms for individual bathing.

Medieval Medicine Cabinet
In keeping with the site's healthfulness, various displays in the Aptek Museum represent the history of pharmacy in the East. On exhibit are ancient documents about the history of drugstores in Azerbaijan, bottles that were used for storing herbal medicine as well as scales and mortars for grinding medicinal plants.

It appears that even 1,000 years ago pharmacists had scales and balances to measure seeds precisely, even as tiny as 1/100 gram. A pharmacy from those times wasn't as primitive as we might imagine. Azerbaijani pharmacists used 27 types of complex medicines during the Middle Ages, including various unguents, powders, syrups, tablets, concoctions, infusions and fresh juices. A total of 866 formulas for such complex medicines are described in the ancient Azeri manuscripts. Medieval pharmacists in Azerbaijan had a wide variety of ingredients to draw from, including 744 species of plants, 150 animals and 115 different minerals.

Another important aspect of the Aptek Museum building is the beautiful murals on the ceiling of its entrance dome. When the bathhouse was restored, the GAPU invited painter Tahir Tahirzade to paint the walls and ceiling in the Oriental style. Tahirzade created pastel images that imitated scenes from the Middle Ages based on the style of the famous Azerbaijani miniaturists Sultan Mohammad and Agha Mirak. Most of the scenes are literary, not medical, and offer a glimpse into what was perceived as the idyllic days of yore.

Outside, there's the new building of the Cultural Department of the British Embassy. Of course, this brings with it congested traffic. You can catch a good glimpse of the President's Aparat from there as well.
Aptek Museum
Across from the Elf Office Building, southwest corner of Ichari Shahar (Inner City) off V. Mammadov Street.
As a Medical Historian at Baku's Institute of Manuscripts, Farid Alakbarov has extensively studied the medieval medicine texts preserved at the Manuscript Museum in their original Arabic script .


Home | About Azeri | Learn Azeri | Arabic Script | Store | Contact us

Articles from Azerbaijan International
© Azerbaijan International. Copyright 2002. All rights reserved.