Autumn 1997 (5.3)

State Visits, State Gifts
Memorializing the Clintons in Carpets
by Anne Kressler
Exactly what do kings and queens, princes and presidents give one another to commemorate the momentous occasions of their official visits. And what's the perfect gift to offer someone who has access to everything they could ever wish for? No doubt every Head of State faces this dilemma many times during his tenure in office. Here's the background to the gift that President Aliyev presented to Bill Clinton on his visit to the White House on August 1, 1997.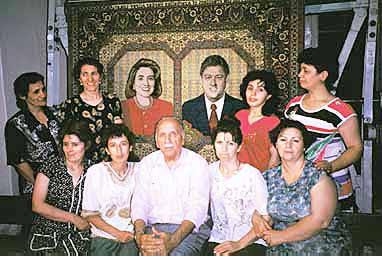 The Carpet for Clintons and the team which wove it. In Baku. 1997
Along with myriad details to finalize in preparation of his first official visit to United States, President Aliyev wanted to find a way to mark the momentous occasion with a gift. It's not like on the way to the White House, you casually ask your chauffeur to stop by a florist' stand and pick up a dozen long-stemmed roses. President Aliyev wanted this gift to be unique, distinguished from all other gifts in the whole world. He wanted it to be aesthetically beautiful, something representative of Azerbaijani arts and craftsmanship, and, in typical Azerbaijani style, something very personal.

| | |
| --- | --- |
| | |


Aliyev's trip to the United States had long been anticipated and, frankly speaking, was long overdue. Four years into his presidency, he had signed more contracts with American oil companies than with any other foreign country. The investment value ran into billions of dollars. So he deserved acknowledgment, if only, for these enormous economic ties that he has fostered between the two countries. On his part, the Azerbaijan President openly admits that relationships with the West, especially the United States, are strategic in his quest to preserve the independence of his own tiny country, which is no larger than the size of Maine.

It seems the choice of Clinton's gift came long before Aliyev received the formal official invitation to visit the White House. The coveted letter of invitation came in late spring when the U.S. Ambassador in Baku, Richard Kauzlarich, presented it to him on the occasion of his 74th birthday-May 10th. The visit was eventually fixed for August 1, giving the Azerbaijani government merely ten weeks to organize the trip with a 60-member entourage.

The decision was finally made to feature the portraits of both President Clinton and the First Lady together in a handmade carpet. "I know how much a man appreciates his wife and children," admitted Aliyev, himself a widower since 1985 when his wife died of cancer. On earlier occasions, he had met both Bill Clinton and his wife, Hillary, a woman he found to be of great intelligence, highly articulate and sympathetic, who has contributed enormously to her husband's success as President.

Gathering Photos
In 1996, after Clinton's second term in office was assured, President Aliyev approached the renowned carpet portrait artist, Kamil Aliyev, 75, and commissioned him to start thinking about a design featuring both the President and First Lady together.

Kamil recalls how hesitant he was to tackle such a project. "I had never seen two portraits featured on the same carpet," he said. "Usually one person is placed in the center of a medallion or, occasionally, you'll find a group of people depicted together but they're always treated as a single unit. I really wasn't quite sure how to handle the symmetry with two portraits. But I couldn't say no. How do you refuse the President on such a momentous occasion?"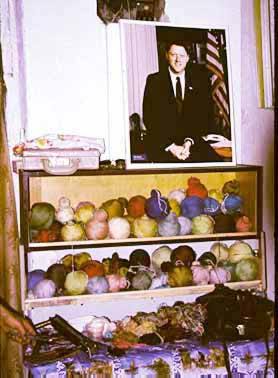 So Kamil went scouting for photos of the Clintons, inquiring at the Embassy in Baku, and then at some of the American companies: Did anyone have a photo or, perhaps, even a magazine that captured the essence of this First Couple? Gradually, photos trickled in.

That's when the work began. "The whole process of carpet design really begins with paper and pencil," explains Kamil. He admits that the final sketch of the Clintons, whom he has never seen, was a composite of numerous photos.

Since President Aliyev wanted to convey the unity of this couple, Kamil decided to place them inside a stylized heart-shaped medallion. Under their portraits is a vase of flowers. "I imagine their life to be like a bouquet of flowers," he explained, thinking of the prestige and glory of their position and not about the tough opposition that the Clintons have received on a daily basis ever since taking office. "I had heard a lot about this couple and realized they were very close to each other. The world knows that, too. I wanted to convey their lives as one beating heart. I wanted them to be warm, charismatic portraits, not stiff and formal," Kamil said, explaining the concept of his design.



Weaving
Though the concept for the Clinton carpet started early, the actual task of weaving it came only after Clinton's invitation. Therefore, it was an extremely rushed job. The team had only ten weeks to complete a work that normally would take four to five months, especially since the facial details required precision down to the last millimeter. Kamil himself was involved with dyeing the yarn in 80 to 90 different shades for the carpet which was 1.8 x 1.7 meters in dimension.

Twelve young women (ages 18-35) were employed in three 8-hour shifts, working around the clock in a old workshop in the medieval section of Baku called "Ichari Shahar"-Inner City. An experienced master carpet weaver, Adiba Musayeva, was assigned to weave all the facial details. When they reached that portion of the carpet, she, alone, did all the work. Mass production stopped until she managed to finish that section.

Mr. Clinton's suit is woven in dark blue and his wife's dress is cardinal red with gold buttons. She wears a strand of twisted, white miniature pearls, amazingly precise in detail. The background pattern includes designs of golden browns and hues of red and pastel blue. According to Kamil, some of the motifs are based on the famous gigantic Shah Safi carpet (1539-1541) on display at the Victoria and Albert Museum in London where it covers an entire wall (10.97 x 5.37 meters). The Shah Safi carpet (or what has become known as the Ardebil Carpet) is based on the Tabriz school of carpet weaving, considered to be one of the finest in the world.

Tabriz (a city in present-day Iran populated by Azerbaijanis) became known as the first export center for Azerbaijani carpets. As early as the 15th to 17th centuries, these carpets became popular in Europe and were often used to decorate palaces. Portrait paintings by famous European artists of that period often include carpets on the floor with designs that are recognizably Azerbaijani.

Portrait carpets
Portrait carpets are not new in Azerbaijan although sunbursts, dragons and other geometrical or floral motifs are more common. It seems portraits started becoming famous as State gifts in the USSR in the 1960s with the artistic carpetry of Azerbaijani Latif Karimov (1906-1991). Prior to that, portrait carpets had existed but were not highly refined in design. Karimov designed portraits to commemorate great poets of Eastern tradition such as Ferdowsi, Nizami, Nasimi, Vagif and Samad Vurgun, along with the Russian writers Pushkin and Gorky. Then there were the obvious state heroes like Lenin and Gorbachev. Even Yuri Gagarin, the first Soviet cosmonaut who circled the earth for the first time in a rocket in one hour, 29 minutes at 18,000 miles an hour in 1961 was memorialized in a portrait carpet as was the first Soviet woman cosmonaut, Valentina Tereshkova, after orbiting the earth 48 times in 71 hours in 1963.

Karimov who spent endless hours was fond of saying, "The rugs and carpets I produce have thousands of knots! And each single knot holds so much trouble, so much labor!"

Kamil's career in portrait carpets began in the 1960s. Since then, he has designed numerous portrait carpets. For example, Gorbachev took his Indira Gandi carpet to India where it is now on display in the museum bearing her name.

Future Viewers
The day before the Azerbaijani officials boarded the plane for the U.S., the Clinton carpet was rolled up and presented to Aliyev. At the top edge of the carpet woven in English is the inscription, "From the President of Azerbaijan, Heydar Aliyev, on 1, 08, 97."

American presidents are not allowed to keep the endless array of gifts they receive. They become property of the government and, eventually, who knows where they end up. A century or two from now, perhaps, someone, somewhere will pause in front of this rare art piece, perhaps displayed in a museum some place, and wonder about the political, economic and personal stories behind this symbolic gesture from the tiny, energy-rich country 7,500 miles away, commemorating the leader of the world's gigantic superpower at the turn of the 20th century.

Home | About Azeri | Learn Azeri | Arabic Script | Store | Contact us

Articles from Azerbaijan International
© Azerbaijan International. Copyright 2002. All rights reserved.