Spring 1997 (5.1)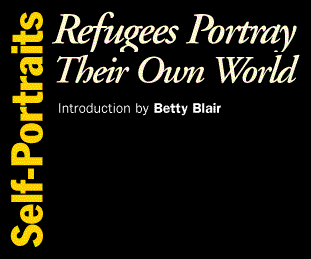 Photographs are rare treasures among Azerbaijani refugees as many had to flee their homes on very short notice and leave them behind as they fled for their lives. It's another tragic loss for them, being severed from the images of parents, grandparents and early childhood--the memories that link them to their past.
In our earlier issue devoted to Azerbaijani refugees [see AI 2.1, January 1994, "Winter of Disbelief"], we published photos taken by the refugees which portray how they viewed the conditions in which they were living. The results were strikingly different from the stereotypical photos of refugees that fill the pages of our newspapers and magazines. Somehow, despite their poverty, these amateur photographers found a way to express their dignity.
The Self-Portraits Project was so successful that we decided to repeat it again-four years later. So in February, we headed out to Sabirabad Camp No. 1 and Telmankand settlement. Established in 1993, Sabirabad is the largest of Azerbaijan's refugee camps with nearly 12,000 residents who now live in one-room, mud brick shelters. Telmankand is much smaller and newer, having just been completed a few months ago by Relief International and UNHCR. About 150 people live in Telmankand in one-room, limestone block shelters.

We had no difficulty finding volunteers to help us after we showed them the photos in our earlier magazine. We handed out disposable cameras (Kodak FunSaver with flash, 27 exposures of 35 mm film) and promised each of them a full set of their photos.
When analyzing the results, it is significant to note that the refugees, themselves, were exclusively responsible for choosing the content of their photos. Here are some of the patterns that emerged which illustrate how they manage to cope and find meaning in their lives.
Photos Mean People
To Azerbaijanis, photos are synonymous with people. If you show them photos of scenery or objects, they're likely to ask you what happened to the people. Only two photos out of the hundreds that were taken did not include people. One was a close-up of a box of baby chicks. The other, by an 11-year-old, artistically captured the focal point of every home--the teapot perched atop a kerosene burner.
Women as Nurturers
The nurturing role of women is evident everywhere. Beyond the never-ending chores of preparing food and washing clothes, the women manage to keep their tiny homes immaculate, in spite of having to accommodate five or more family members. Bedding is always neatly folded, and the blankets, carpets and tarps that cover the floors are incredibly clean. Most of their living spaces have a genuine feeling of home about them-to the great credit of the refugee women. Clearly, they are the anchors of family life in the camps.
Disparity in Material Possessions
Some people enjoy the luxury of television sets and beds, while others still carry out all activities, including eating and sleeping, on the floor. Those who were able to anticipate their escape have much more comfortable surroundings. It's as if the moment of flight is frozen in time. Other than what has been provided by the relief agencies, most refugees have not been able to acquire any household items of significance these past four years.
Traditions Still Strong
Refugee life, despite the scarcity of material possessions, is a microcosm of Azerbaijani culture. Hospitality is still revered as the most honored of traditions. Tea, though of necessity served very weak, is still central to all gestures of hospitality. Also, religion is becoming more evident in the camps as reflected by photos of young people learning to pray and reading the Koran.
Quest for Aesthetics
Somehow, even in these dismal settings, there is an innate desire to create beauty. Evidence of this is found everywhere, from posters on the wall to a well-arranged bed or a handmade carpet. Personal appearance is also valued, and people do their best under the circumstances to look attractive. Young women appreciate lipstick and try to find creative ways to style their hair. Small mirrors are prized possessions.
Out of the hundreds of photos we developed, we have chosen these as being representative. They indicate that despite the immensely trying circumstances in which these refugees are living, psychologically-somehow-they are finding ways to cope.
From Azerbaijan International (5.1) Spring 1997.
© Azerbaijan International 1997. All rights reserved.

Home | About Azeri | Learn Azeri | Arabic Script | Store | Contact us

Articles from Azerbaijan International
© Azerbaijan International. Copyright 2002. All rights reserved.