Summer 1994 (2.2)
Profiles in Transition
Omar Eldarov, Sculptor
When Independence Diminishes Choice
by Betty Blair
Photography by Oleg Litvin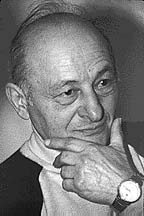 He may be short in stature but when it comes to his achievement in the world of sculpturing, he's a giant and few tower over him. It's not an exaggeration to place Omar Eldarov, one of Azerbaijan's finest contemporary artists, among the world's great sculptors both in terms of conceptual design as well as technical execution.

Eldarov's works read like a "Who's Who in Azerbaijan" featuring distinguished philosophers, poets, writers, musicians, composers, conductors, artists, and statesmen-all beloved individuals who have greatly inspired Azerbaijanis through the ages.

His works memorialize centuries of thinkers. For example, he worked on Avicenna, celebrated physician of the 10th century who wrote one of the earliest Arabic treatises on medicine that exists in the world. He has memorialized Fizuli, beloved poet philosopher of the 16th century (see Azerbaijan International, Winter 94), as well as India's Mahatma Ghandi of the early 20th century.


His statues grace numerous squares, parks, and museums in Azerbaijan but the greatest collection can be found in Fakhri Khiyabani, (Avenue of the Honorable), a public park cemetery which commemorates Azerbaijan's most distinguished personalities. There you'll find statues to Opera Composer and Founder of Azerbaijan's School of Classical Music, Uzeyir Hajibeyov; Writer Suleyman Rahimli; Composer Fikret Amirov; Writer-Statesman Sheik Ali Gourbanov; Conductor Composer Niyasi; and Scientist Agronomist Hasan Alireza oglu Aliyev.

Though his father, himself an agriculturist, had wanted his son to become an architect, Eldarov pursued the path of building three-dimensional structures of a different sort-monuments that house reminders of some of the world's greatest minds. His children, too, have all three followed his artistic footsteps: his elder daughter studied art history; his son, sculpturing; and his younger daughter is currently studying painting in Moscow.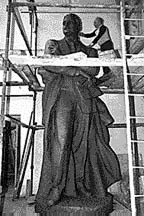 At work on newest piece: Mohammad Amin Rasulzade, first President of the short-lived Democratic Republic of Azerbaijan (1918-20).
To be completed by 1995.

Eldarov's studio is like a museum storeroom. Located 15 minutes' drive from the center of Baku, it opens to an expansive three-storied room flooded by natural sunlight. Sketches, miniature studies and models, documenting decades of work, clutter the shelves that line both sides of the room-each model, a history in itself, representing hours in search of the best way to capture the spirit and memory of his subject. Beginning from a conceptual sketch on paper, Eldarov often works through as many as ten or more studies in plaster before tackling the work that will finally be cast in bronze or chiseled in marble, granite or wood.
Often his first model is very small, but the final stage evolves into something larger-than-life intended to be viewed from a distance of at least 20-meters. For example, his first study of Hosein Javad, (famous writer whom Stalin exiled to Siberia and which was dedicated only in May 1993) stands several times larger than life but originated as a ten inch model that could fit in the palm of your hand.

The stamp of the Soviet period is clearly evident in Eldarov's work-not, perhaps, in the way many Westerners would expect. In general, his style is the antithesis of the heavy, bulky, massive work that characterizes so much of that era. Eldarov's work is more delicate, more gentle, more individualistic and more compelling.

However, there are strong traces of socialistic realism-as in the way he represents hands, for example. It seems Eldarov has an obsession for hands, whether they be those of painters, composers, or writers. They clearly mark his work: they're elongated, detailed, and expressive of the miraculous medium which transforms man's highest thoughts and ideals into tangible realities.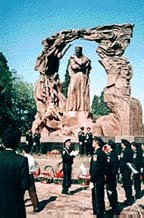 Statue to Husein Javid completed in 1982 and dedicated in June 1993. Photo: P. Khanlou.
His daughters refer to his style as Romantic. Perhaps so. But what cannot be denied is that his works summon the viewer to begin a journey, a love affair, you might say, in search of the ideals that the statue symbolizes. One walks away deeply regretful of never having had the chance to meet these colossal geniuses in real life.

In Eldarov's opinion, the Soviet period was unique for artists because of the opportunities made available for those exceptionally talented. Projects were always being commissioned. "Actually," he confesses, "I had more freedom then than I do now. There were so many choices for me; I was always able to sculpt in truth as I never felt obliged to work on subjects that didn't interest me or in which I didn't believe.

But since Perestroika, economic pressures and inflation have taken their toll on art in Azerbaijan as it has in the other former Republics. "We needed Perestroika, but not the kind that has emerged. We didn't need revolution, we needed evolution. This one turned out to be destructive. Today, our Ministry of Culture doesn't have money, and, therefore, can make no plans for the nation's artistic talent.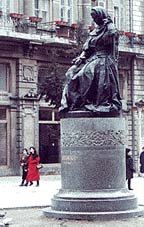 Statue of Khurshid Banu Natavan (marble, 1955). Natavan was an outstanding poetess and progressive thinker for her time (1830-97). She is shown seated with pencil in hand. Eldarov, a great admirer of her work, studied all her poems while working on this statue.

"We have problems finding work now. Only private work exists-usually a few grave markers. It used to be that the State organized work for the artists. Now if people have money, they invest it in houses and cars, not monumental art."

The sad reality is that Eldarov, the father, probably had more opportunities in his lifetime than his son, also a sculptor, will ever have now that Azerbaijan has gained its independence.

Inflation has eroded the ability to find quality materials. "You see these chisels," he says pointing to a wide array of tools neatly tucked in their leather casing as we walk around his studio. "These came from England, but I could never afford to buy them now."

"This alabaster (plaster) used to cost 80 kopecks for a 50 kilo bag. Now it costs 25,000 rubles. This marble came from the Ural Mountains and cost 100 rubles per cubic meter; now I'd have to pay 1 to 2 million rubles. Impossible."

But the stamp of the new era of independence is not absent from Eldarov's work either - more specifically, you see it in the political choices which are being commissioned and dedicated.

The most dominating work in his studio is a 30 foot statue depicting Mamad Rasulzade, President of the short-lived Democratic Republic of Azerbaijan (1918-20) prior to the imposition of Soviet power. It should be finished by next year. Such a nationalistic choice would never have been allowed during the Soviet era.

According to Eldarov, it was not traditional to carve one's signature or initials into any of the works he sculpted during the Soviet period. In Fakhri Khiyabani, for example, not a single statue bears a trace of identification for the generations who will walk its paths in the future. Nevertheless, it cannot be said that his statues are not clearly distinguishable there.

"When people see my works, the most important thing for me would be...if they would become more kind...and that they, too, would go out and create something beautiful. You know, 'Beauty and Kindness are sisters.'"

And if you study his works carefully, comparing them to others of the same period, you'll discover that his words are not a cliché and not exaggerated. His works really are marked by a quest for exactly that-"a kinder, more beautiful world."

(This interview was prepared with Russian translation assistance from Jamila Pashayev and Leyla Nasser Gani). See pages 38-39 for more photos of Eldarov's works in the translation of this same article into Azeri (Latin), the newly adopted alphabet of the Republic of Azerbaijan.

Home | About Azeri | Learn Azeri | Arabic Script | Store | Contact us

Articles from Azerbaijan International
© Azerbaijan International. Copyright 2002. All rights reserved.