Summer 2002 (10.2)

Editorial
Baku - City That Oil Built
Life's Reversals and How to Face with Them

by Betty Blair




"What's to see in Baku?" visitors to June's Annual Caspian Oil and Gas Show always want to know. May we suggest the Taghiyev Residence at the top of your "must-see" list? It's a great introduction to Baku's most famous Oil Baron - Haji Zeynalabdin Taghiyev - and a great way to catch a glimpse of the glory (and the tragedy) of the Oil Boom period (about 1885-1920).

Taghiyev's home is located on the corner of Taghiyev Street (in his day, "Stockmarket Street"), between Fountain Square and the Caspian. His three-story home takes up the entire block. Its exterior, though extremely solid and well built, belies its interior aesthetics. There is no other residence in Baku that can match Taghiyev's for its dignity, grandeur and exquisite taste.

Go see it for no other reason than to view the Grand Oriental Hall on the second floor. The room is breath-taking with spectacular ornate 20-foot-high ceilings, its crystal chandelier, gilded archways, decorative hand-painted walls, parquet flooring and enormous plate glass windows (one of which was unfortunately shattered in the November 2000 earthquake).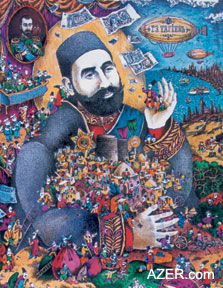 But Zeynalabdin Taghiyev's life is a story of reversals - from rags to riches and then back to rags again. By some accounts, Taghiyev lived to be 101 years old (1823-1924), though others say that he was only 86 when he died (1838-1924). Taghiyev knew nothing but poverty during his childhood. His father, a shoemaker, apprenticed him when he was only six years old to a bricklayer. Gradually over the years, Taghiyev succeeded in buying some property and lucked out when he hit an oil gusher. Because of Taghiyev's kind, generous nature, you could say that Azerbaijan lucked out, too. Taghiyev's good fortune lasted a mere 35 years - from about 1885-1920. And then the Bolsheviks came and crushed all private enterprise. Azerbaijanis are the first to admit that oil has always been a double-edged sword, bringing both blessing and curse - throughout the ages.

Left: "Taghiyev, Embracing Baku and its People" by Artist Orkhan Huseinov. Contact Orkhan at (994-12) 61-17-28 (home), (994-12) 60-13-25 (studio), 92-44-83 (gallery), E-mail: orkhan_art@hotmail.com. Link to AZgallery for more of Orkhan's works.

The Bolsheviks confiscated all private property - residences, oil fields, everything. Taghiyev had no choice but to abandon everything to which he had devoted his life. However, he did not flee like most other oil magnates and entrepreneurs who left for Iran, Turkey and Europe and never returned. Taghiyev left the city for his summer home in Mardakan, the little town where he had grown up.

Naila Valikhanli, Director of the History Museum, took me on quite an extensive tour of Taghiyev's Residence this past April. Most rooms are closed to the public, but with keys in hand, she opened room after room to show me a glimpse of the Taghiyev estate - the State Dining Room, Taghiyev's wife's Boudoir, the Children's Nursery, and on and on.

To tell you the truth, not much is left of the glory that existed when Taghiyev lived there from 1910-1920. Take a look at the photos (page 42 onward) from Taghiyev's own personal photo album to understand what exquisite style he enjoyed.
But there is something very unsettling about a tour through the Residence. Somehow we've grow up with the illusion that the future is always better than the past. Taghiyev's residence would question that assumption.

Hardly anything depicted in those photos remains today. The original paintings are gone. The carpets, the grand piano, the exquisitely designed furniture, even some of the door handles have disappeared, obviously stolen.

Mostly only decorated ceilings and parquet floors along and some of the wall paint (now almost 100 years old), with its perfectly matched color scheme of beige, green, brown and gold. The colors have not faded.

Taghiyev was not the wealthiest oil baron in Baku, but ask any Azerbaijani to name the most important one, and with rare exception, they'll say "Taghiyev". During the 70 plus years of the Soviet period (1920-1991), however, his name was rarely spoken. The Soviet Encyclopedia hardly manages to acknowledge his existence. During the Soviet period, they even tried and, I might add, succeeded quite well in chiseling off his limestone monogram, HZAT, from the exterior of his residence.

So why hasn't his name completely faded into oblivion? And what is his legacy? And what can we learn from it as we find ourselves living in an Era of Reversals, where once alleged enemies are embraced as closest friends (and vice versa), where companies who rule the world one day, collapse the next, where events occurring on one side of the globe have a profound effect on the other side?

The secret seems to lie in what Taghiyev succeeded in doing while he still had opportunity to do so. Taghiyev was known as the most generous and committed philanthropist in the city. In many respects, he was the driving force that helped lay the foundation for the independent nation that was created later on. For instance, Taghiyev was the prime mover and main contributor to the construction of a 110-mile water pipeline from Shollar Springs in the Caucasus to Baku, which solved the city's water problem. See page 50.

Though illiterate himself, Taghiyev tirelessly sought out opportunities to educate his people. He built the first Muslim Female Girls' School in Baku, which opened in 1901. (The building now houses the Institute of Manuscripts). Taghiyev provided the support for many young people to study abroad in Moscow, Leningrad and Europe. He also provided the operation funding for many other schools. He built mosques. The first drama theater was his. And he was strongly involved with many printing and publishing endeavors. He was tremendously involved with bringing a clean, safe water supply to Baku. And the list goes on and on and, no doubt, that's exactly why his memory has never faded from the hearts of the Azerbaijani people despite the intentions of any political system. Others boasted more wealth, but none delighted more in strengthening his fellowman.

____
Back to Index AI 10.2 (Summer 2002)
AI Home | Magazine Choice | Topics | AI Store | Contact us

Home | About Azeri | Learn Azeri | Arabic Script | Store | Contact us

Other Web sites created by Azerbaijan International
AZgallery.org | AZER.com | HAJIBEYOV.com