Summer 2003 (11.2)

Atashgah
As Seen by French Writer Alexander Dumas 150 years Ago
by Farid Alakbarov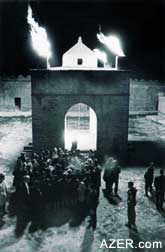 Left: Atashgah, the Fire Worshippers' temple originally had four flames burning from the roof of the temple as well as a main altar inside. Photo 1969. (Photo: Azerbaijan National Photo Archives)

In 1858, the great French novelist Alexander Dumas ("the father") (1802-1870), who is remembered for writing "The Count of Monte Cristo" and "The Three Mousketeers," visited the Caucasus. On his nine-month journey throughout the region, one of the places that captured his imagination was Atashgah, the Fire Temple located on the outskirts of Baku. Dumas wrote some of his impressions about it in his book, "Travels in the Caucasus" which was published the following year in Paris.

Dumas challenged his fellow Frenchmen not to delay in visiting this site. He was right. Today, the Atashgah compound has been converted into a museum and is no longer the living monument that Dumas describes. The fire worshippers have long gone, and the flames are no longer spontaneously burning in the domed cupola. Today, the eternal flame is fed from gas channeled in through pipes. Here is the scene as Dumas witnessed it approximately 150 years ago.
"After breakfast, we took our seats in the phaeton (horse and carriage) that was waiting for us at the front door and headed out to the famous Atashgah. Baku's Atashgah is known throughout the entire World; that is, with the exception of the French who rarely travel. This site that is on fire both day and night is situated 26 kilometers distance from Baku. The eternal flames emanate from the black and crude oil beneath the ground."

"It took us two hours to arrive at Atashgah. During the first part of our journey, we went along the seashore. At Atashgah, we climbed to the top of a hill from where, we could view all of Atashgah with its fires. Just imagine an area of 4.5 square kilometers!

"Great tongues of flame soared in the air from the hundreds of tiny round fissures in the ground. The wind would scatter the flames, curve them and then straighten them, spreading them along the ground and then lifting them up to heavens again. But it was impossible for the wind to extinguish them.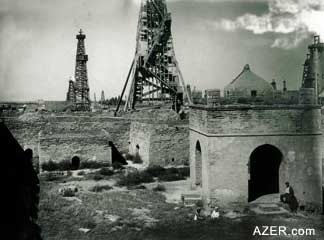 Left: Atashgah, the Fire Worshippers temple, prior to 1940. Note the oil wells in close proximity outside the Atashgah compound. The site has been converted into a museum and may be visited duringthe daytime. Atashgah is located outside of Baku at Surakhani, in the direction of the airport. (Photo: Azerbaijan National Photo Archives)

There was a big quadrangular building which also was lit by a fire. Reflections of the flames danced on the walls of the building, making it seem like the building itself was moving.

"There was a white washed temple, surrounded by little ovens again filled with tongues of flame. The gas burned with such loud noise that each of these little ovens sounded like a big furnace. On the roof, great tongues of flame were emitted from each of the four corners of the big cupola. But these flames were weaker than the fire nearby the Eastern entrance of the temple.

"We approached the compound through a single gate situated in the East. Then a spectacular and very beautiful view opened up before our very eyes. It is said that this place is usually only illuminated like this on holidays. It turned out that M. Pigulevski (the Russian authority in Baku) had notified the people at Atashgah about our arrival. These fire-worshipers, who have experienced repression for more than 2,000 years, obeyed his order and prepared everything to the best of their ability.

"My compatriots who would like to see these fire worshippers better hurry. The only worshippers left are an old man and two others around 30-35 years old. One of young men had just arrived from India only six months earlier. That is, before him there were only two worshipers left at Atashgah.

"We entered through a door which was completely enveloped in flames. In the middle of a big, quadrangular court, there was a domed building with an altar in it. In the middle of the altar, an eternal flame was burning. The gas flames were also emitted of all four corners of the dome. It was necessary to climb five or six stairs to approach the alta