From the Book "Far Green Island"
by Vagif Samadoghlu

Go to Store - Books: Vagif Samadoghlu
________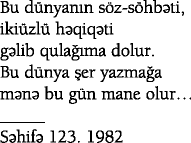 Back to - Far Green Island Index
Back to - Vagif Samadoghlu Index
Home | About Azeri | Learn Azeri | Arabic Script | Contact us

© Azerbaijan International. Copyright 2001. All rights reserved.