Spring 2000 (8.1)

To purchase a copy of the

CD, contact Polad via email at mugam@culture.gov.az. Music from the CD will also be available on the AI web site in Summer 2000. Click on "Music Section".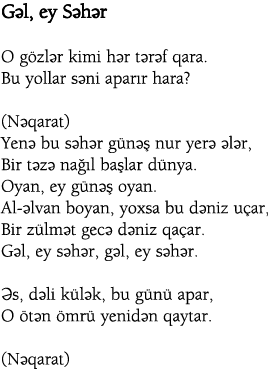 _______________
Come, Morning
Everywhere is as dark as those eyes.
Where do these roads take you?
(Chorus)
Again this morning the sun will spread its
rays all over the earth,
The world will start another new tale.
Wake up, Sun, wake up.
Dye everything, make everything colorful,
Or this sea will fly away,
Or it will run away in one dark night.
Come, morning; come, morning.
Blow, crazy wind, take this day away,
And bring back the life that has passed.
(Chorus)

Words by Fikrat Goja
Music by Polad Bulbuloghlu


___

From Azerbaijan International (8.1) Spring 2000.
© Azerbaijan International 2000. All rights reserved.

Home | About Azeri | Learn Azeri | Contact us